Alpbachtal in Tirol: True Alpine Charm

Alpbachtal might be the place you've been dreaming about your entire life.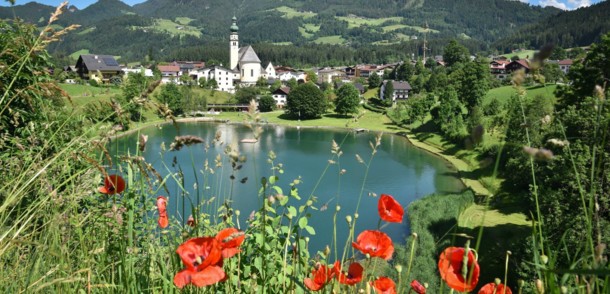 Facts & Figures
Austria's Most Beautiful Village
This is not your usual holiday destination. On first glance, you might doubt that the Alpbachtal region in Tirol is even real. Perhaps you'll have to pinch yourself to make sure you're awake.
Why? Because it's almost too good to be true. It's no coincidence that the region is home to Alpbach, which was named Austria's most beautiful village – the picturesque wooden houses decorated with colourful flowers, set against a backdrop of rugged mountains might have you pause for a moment to marvel. And it doesn't stop there: When you feel the spray of water from a stream running through a wild, rocky gorge, you will finally know: Yes, this is real.
A Brit in Alpbachtal
We sent Macca from An Adventurous World to Alpbachtal. See what he got up to – and find more information on his itinerary below.
Macca's Alpbachtal Highlights
Wiedersbergerhorn Mountain
Summiting the Wiedersbergerhorn is a must-do during your Alpbachtal holiday. From the cable car's top station, it's a one-hour hike.
"Lauser Sauser" Alpine Coaster
The most exciting way to get back down to the valley is the Lauser Sauser Alpine coaster, a two-seater sledge that reaches speeds of up to 42 km/h and includes two 360° twists.
E-Biking
Hiring an e-bike to explore the area is a great way to go a little further – guided tours are available too.
Town of Rattenberg
With just 400 inhabitants, Rattenberg is the smallest historical town in Austria. Visit the castle ruins, nestled above the medieval centre, or watch the glass blowers create remarkable works of art in the town's main shopping street.
Why Visit Alpbachtal
Experience Alpbach, Austria's prettiest village, with its traditional wooden houses
Explore the village of Rattenberg and its picturesque medieval pedestrian zone
Tirol's warmest bathing lakes
Adventure trails for families on Wiedersbergerhorn & Reither Kogel mountains
Located just 40 km from Innsbruck
Closest Airports
Innsbruck: 40 km (30 min)
Munich: 120 km (80 min)
Salzburg: 140 km (90 min)
Alpbachtal Tourismus
Zentrum 1
6233 Kramsach
Telephone:
---