St. Johann in Tirol: Highest Highs

Where the rugged Wilder Kaiser mounts guard over blooming meadows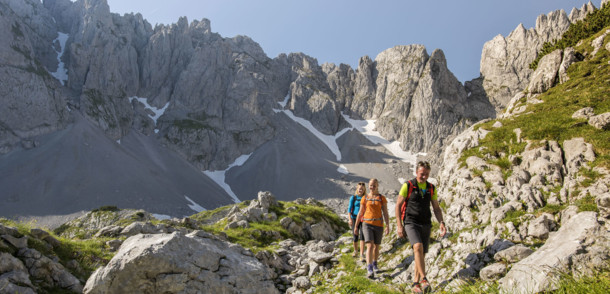 Facts & Figures
Nature and All Its Wonders
There's that one point of focus when you visit St. Johann in Tirol: The Wilder Kaiser mountain, with its jagged rock crown jutting into the bright blue sky. It watches over you as you explore the quaint, cobblestoned alleys of St. Johann; it chaperones you on your hike through meadows specked with colourful flowers and resting cows; it beckons you to come hither and go higher.
And even on those days where it's hidden behind a shroud of clouds, or when you follow an icy stream deep into a gorge and lose sight of it, you know it's there – the ancient "wild emperor" standing guard.
A Brit in St. Johann in Tirol
Our friend Michael Turtle a.k.a. Time Travel Turtle explored St. Johann in Tirol. See what he got up to – and find more information on his itinerary below.
Turtle's St. Johann in Tirol Highlights
Eifersbacher Waterfall: An Easy Hike
A shady path through the forest leads you along the cool waters of this picturesque waterfall. Find more information on this hike here.
Harschbichlbahn Cable Car
With its marvellous views, the ride up Kitzbühel Horn mountain is an experience in itself. Find prices and more information here.
Kitzbüheler Horn Mountain
At 1,996 metres, the Kitzbüheler Horn is one of the most prominent peaks in the area. Learn more about the 6-kilometre panorama hike here.
Hornpark Kletterwald Adventure Park
Located right by the cable car's middle station, this park features a variety of climbing courses, swings, and a 230-metre zip line. Adult combination ticket with cable car € 35 (approx. £ 30). Learn more here.
Mountain Carts from Harschbichl Mountain
Get your blood pumping by taking a go-kart back to the valley. More info here.
Why Visit St. Johann in Tirol
Local guest card: Free public transport & numerous discounts
Beautiful, untouched landscapes
Free guided tours with guest card
Wide variety of events
Great hub for various day trips to the Kitzbühel Alps
Closest Airports
Innsbruck: 100 km
Salzburg: 60 km
Munich: 160 km